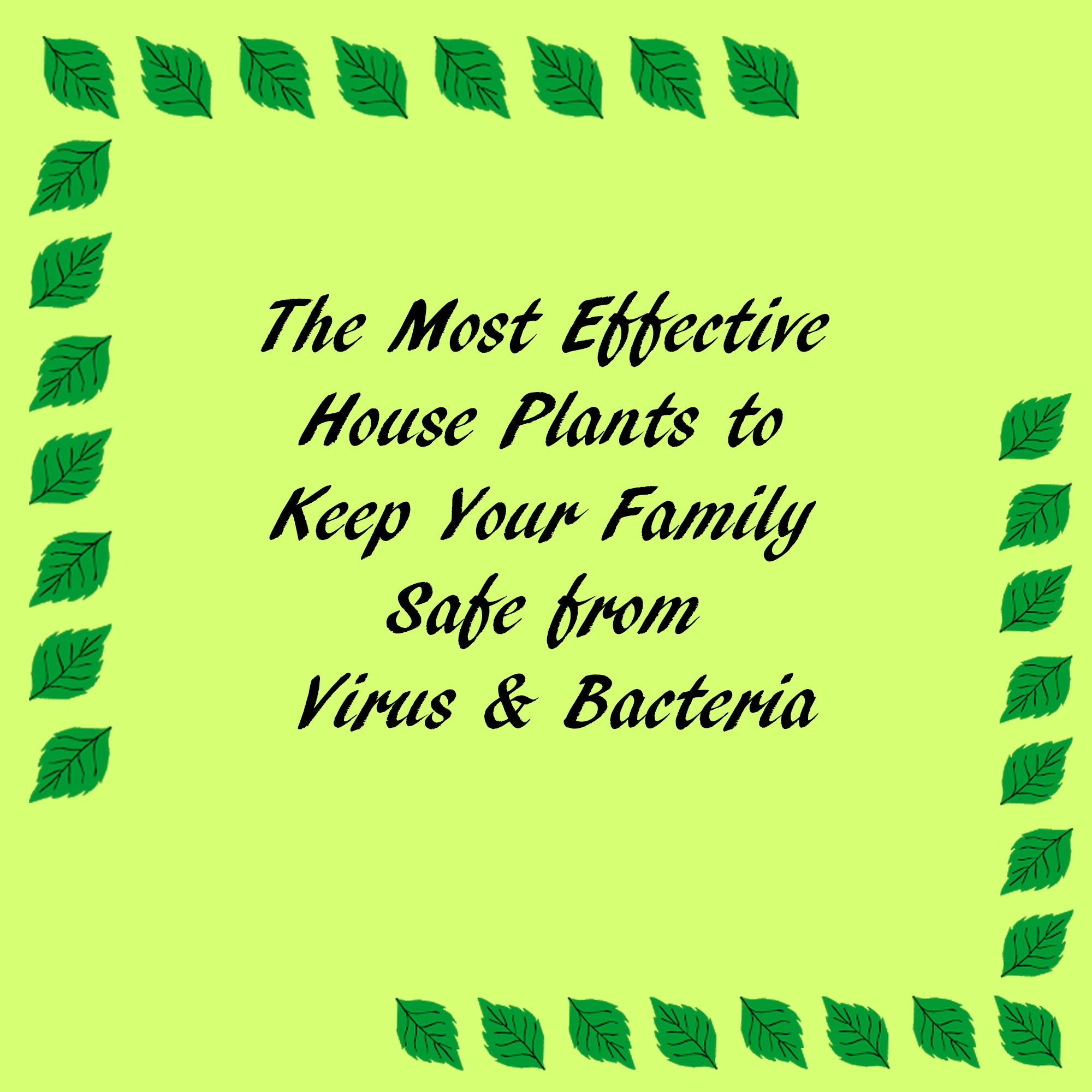 The Most Effective House Plants to Keep Your Family Safe from Virus &Bacteria
Houseplants are the most effective at removing indoor air toxins and contaminants, guarding us from harmful bacteria and virus. Harmful pollutants, which are not confined to outdoor spaces, can be found in homes and offices. However, plants can help to improve indoor air quality and clean the air that you and your family breathe. As reported in a clean air study by NASA, plants can play a major role in removal of organic chemicals from indoor air.
Indoor plants have also been shown to have positive psychological effects such as reducing feelings of fatigue and stress, thus easing the situation for all.  Studies in hospitals have shown having plants in rooms have helped improve patient attitudes and have helped patients to recover faster.
Below is a list of plants that can be helpful at times of crisis.
Bamboo Palm
Bamboo palms are effective at removing bacteria/chemical contaminants from the air like formaldehyde and benzene. They also help to keep the air moist, which is especially helpful during winter months when heaters can produce overly dry indoor air. Bamboo palms have a tropical appearance and, though green instead of the typical tan bamboo color, have the characteristic tall, skinny canes and fanned leaves.
Rubber Plant
The rubber plant is especially effective for removing formaldehyde from indoor air. It's favoured for its ease of growth, as well as its appearance, which features large, rubbery leaves. The rubber plant can grow up to 8 feet tall in the proper conditions. This large ficus (ficus elastica) is bred for toughness, which means that it's not only one of the most effective plants for purifying indoor air, but it's sure to be hardy even in less than ideal conditions.
English Ivy
English ivy is most often seen growing as a covering in atriums and lobbies, but it makes a lovely feature if grown as a topiary. Like the rubber plant, English ivy is known for its ability to remove formaldehyde from the air. English ivy needs lots of light to look its best, but does well when the temperature doesn't get too hot. It is, however, very adaptable to its environment, as it will climb and spread over any surface given the chance making it a ideal house choice for air purifying.
Boston Fern
Ferns are one of the best-known varieties of houseplants, and the Boston fern is known for being the best plant for removing indoor air pollutants, and for adding humidity to indoor air. While it is a champ at keeping indoor air clean, the Boston fern is somewhat finicky and requires an attentive caretaker. Without frequent watering and misting, the leaves will quickly turn brown and fall off.
Dwarf Date Palm
If you're into tropical plants, the dwarf date palm is for you. It's like an adorable mini palm tree that fits in your living room. The dwarf date palm is one of the most effective palms for removing indoor air pollution, especially xylene, which is found in solvents and paint thinner. It's also quite good at keeping the air moist and is fairly easy to grow.
 We at HARITH THARANG have all of these plant varieties on display that you can purchase for your home and enjoy gardening with your little ones.
Harith Tharang is a decade old plant boutique that aims to spread love, positivity & greenery by means of the nature's gift - plants  ; sells a variety of indoor , outdoor, medicinal, biowall plants , plant medicines,  gardening tool, green gifts and so on.  The shop also provides services in developing house gardens, terrace gardens, balcony gardens, kitchen gardens, terrariums and professional maintenance of gardens. The retail store located at 42, Bazullah Road, T.Nagar, Ch-600017,  has a very unique theme of being ecologically friendly, innovative and elegant & offers many innovative products to consumers. It is a one stop, go-to store for all garden lovers. Call 9600120351 to know more details!