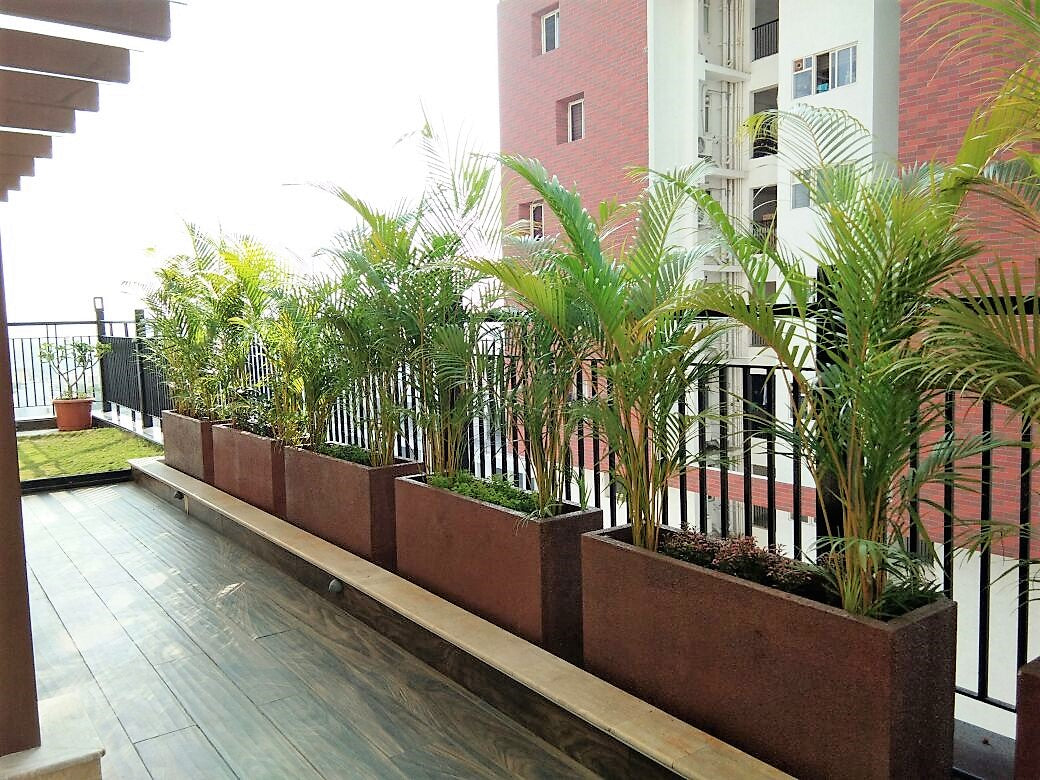 Good health comes from good environment, benefits of terrace Garden
Who doesn't love a beautiful garden? Walking on dewy grass on the morning, drinking tea while relaxing by the flowerbeds, listening to birds chirping in the evening or simply reading while listening to the sound of crickets at night – having a home garden is the truest and finest luxury you could have in today's crowded cities and hectic lives.
However, with rising real estate prices and shrinking carpet areas, a garden landscape is now a rare sight for the city-dweller in Chennai. At such times the concept of terrace gardening has become very popular and is providing much-needed relief and greenery to the citizens.
A terrace garden or a maadi thottam is, like the name suggests – a garden that is on the terrace of a building. Terrace gardens are completely man-made, using flower pots of various sizes, shapes and materials to grow and tend to all types of plants, shrubs and herbs. Obviously, since there is no soil available, terrace gardens cannot have trees, however there are countless varieties of flowering plants and sometimes even smaller trees that can be kept in a terrace garden.
IF you're looking to regain mental, physical and spiritual health in the easiest, cheapest and most relaxing way – start by creating a maadi thottam for yourself. Terrace gardening offers immense health benefits:
You have access to a beautiful green area right on top of your house. Depending on the size of your terrace, your terrace home garden can be as large or as small as you like. On large terraces, it's even possible to create a

garden landscape

using lawn beds, shapely rocks, bricks and more. You can create paths to walk on and even add small fountains. Without doubt, spending time in such a place on a daily basis is certain to do wonders for your stress levels and help you stay calm.

It helps you stay fit. While gardening can be a lot of work -

terrace gardening

and maintenance is just enough work to keep you active and fit. Tending to plants, cleaning the floor and other activities help you stay in shape, lubricate the joints and perk up your mood, without having to do back breaking work.

You can grow your own vegetables. Organic food is all the rage today, and what better way to ensure yourself of the best produce than by growing it in your own

organic terrace garden

? A

maadi thottam

is the best and easiest way to grow a wide variety of vegetables, spices, herbs and sometimes even fruits! Imagine ending your evening walk in your

home garden

on your terrace with hot soup made from vegetables from your

organic terrace garden

!
Loving the idea of terrace gardening, but not sure if you have the time? Fortunately for you, there are many gardeners and landscapers who provide roof garden service in Chennai. For a small fee, you can have your very own garden landscape on your terrace made to your liking. Many of them even offer regular maintenance services. With such landscapers and roof garden service providers your terrace garden is even easier to have!
Harith Tharang is a decade old plant boutique that aims to spread love, positivity & greenery by means of the nature's gift - plants  ; sells a variety of indoor , outdoor, medicinal, biowall plants , plant medicines,  gardening tool, green gifts and so on.  The shop also provides services in developing house gardens, terrace gardens, balcony gardens, kitchen gardens, terrariums and professional maintenance of gardens. The retail store located at 42, Bazullah Road, T.Nagar, Ch-600017,  has a very unique theme of being ecologically friendly, innovative and elegant & offers many innovative products to consumers. It is a one stop, go-to store for all garden lovers. Call 9600120351 to know more details!