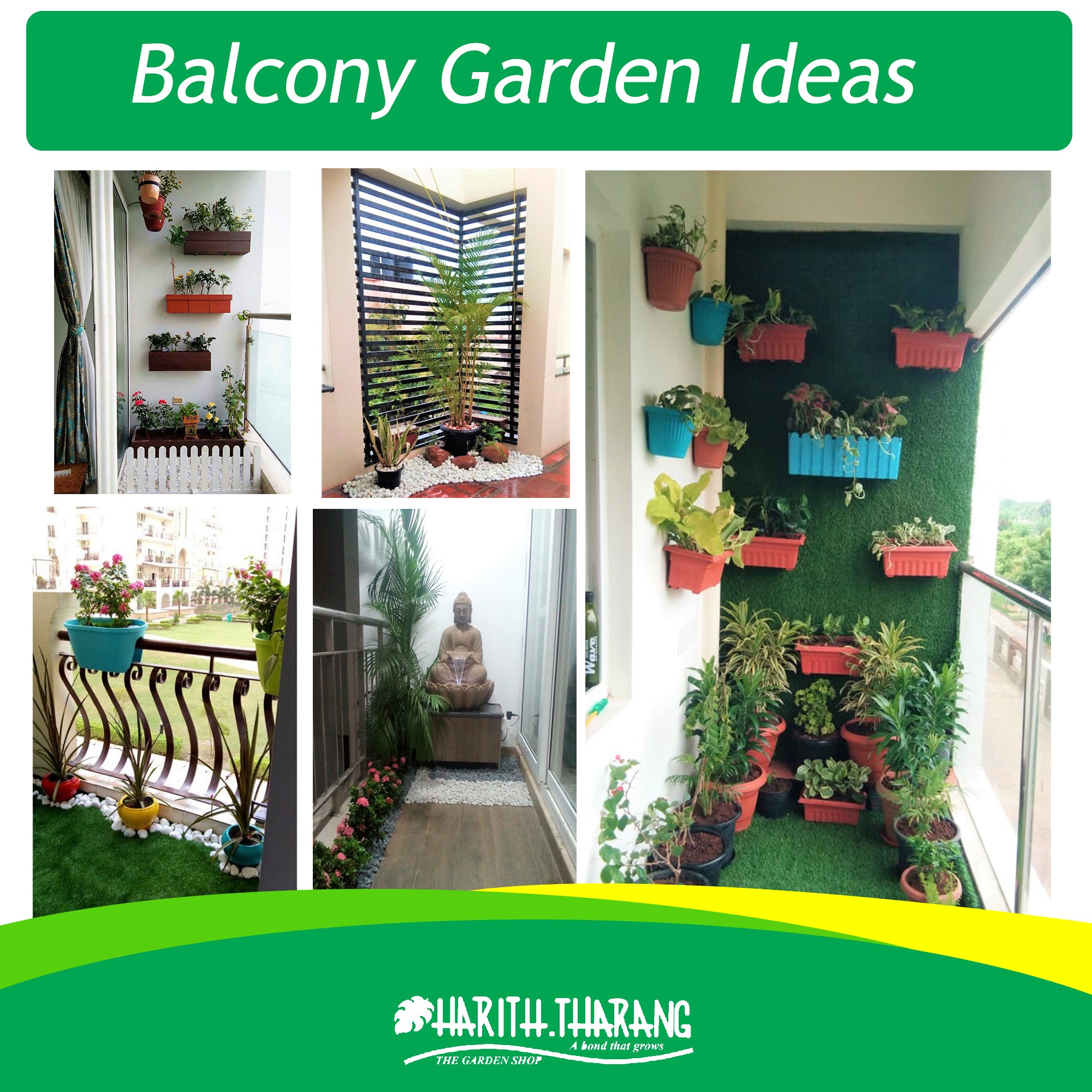 Everyone dreams of having at least a small garden in their home. However, with urban living in small apartments, often, the balcony or terrace is the only option for setting up a small garden. Creating a green space not only is therapeutic but adds beauty to the house. For those who value plants and want to include them in their home, we've put together these balcony garden design ideas for inspiration.
Read on for design ideas on creating a perfect garden within the limited space.

Balcony garden designs ideas

Besides the types of plants, the design of the garden will depend on the amount of space available in the area. Choosing the right layout and design can improve the look of the balcony without making it appear cramped.
⦁ Vertical garden
For tiny apartment balcony garden ideas, consider installing a vertical garden to save space. Fixing a vertical garden system with drip irrigation makes this a low-maintenance option for a garden in the balcony.
⦁ Pergola
In a larger balcony or terrace, a pergola is an excellent solution for providing a cosy seating are in the shade. Surrounding the area with potted plants or balcony planters creates a charming green space for relaxation or entertaining.

⦁ Small flower pots
For a small balcony, instead of large planters that take up a lot of space, using tiny pots helps to grow more species. They can be arranged on a table or shelf.

⦁ Flowers arrangement on a table
In a narrow balcony that only has enough space for seating, placing a flowering plant on top of a sideboard or table refreshes the area and adds beauty to it.
⦁ Creeper for privacy
An interesting way to create a privacy partition in the balcony garden is to grow creeper or vines along the wall or partition grill.

⦁ Plants on wooden shelves
Instead of a vertical garden, a DIY alternative is to arrange small pots or planters on wooden shelves. Add a couple of chairs to provide seating where one can relax.
⦁ Adding layers to the garden
Growing plants of varied heights can bring an interesting look to a balcony garden, making it almost appear like a garden in the backyard.

⦁ A balcony for dining
Sometimes, it's nice to have a place where one can eat in the open-air, whether it's a lazy Sunday breakfast or evening tea while watching the sun go down. A tall table and two chairs are all it takes to create a dining balcony.
⦁ Vase planters
Instead of terracotta pots or wooden balcony planters, placing shrubs or flowering plants in tall vase-like planters adds a sophisticated and modern look to the balcony.

⦁ Balcony railing planters
When space is scarce, it's a good idea to keep the floor uncluttered. Planters that can be hooked on to the balcony rail allow plants to be grown without taking up floor space.

⦁ An organised garden
Another idea for keeping the balcony looking spacious and neat is to grow plants in planters that run along the border of the balcony.

⦁ Plant partition in a balcony garden
In a large balcony or terrace, one of the best ways to partition the area to separate the seating from the rest of the elements is to create a partition using tall plants or a trellis with a climber or vine grown on it.

⦁ Adding colours to the garden
While flowering plants add splashes of colour to balconies and terraces, many of them are seasonal, so there will be times when the garden look one-dimensional with just green. Adding colourful foliage is another solution for adding to the colour palette of the balcony garden.
While a visit to the local nursery is all it takes to find plants to decorate the garden in a balcony, it's essential that the right types of plants are chosen so that it's a one-time investment that requires minimal maintenance. If the plants don't thrive in the existing balcony conditions, they would require frequent replacement to keep the balcony garden looking beautiful.
There's a lot more to the efficient design of the terrace or balcony area to make it attractive and functional. That's why we recommend consulting a professional landscape architect who can provide advice on the layout, style and ideal species for the area. This is especially essential when one is looking for small balcony garden ideas as it requires careful planning and design of the area so that all the essential elements can be incorporated without cluttering the area. Furthermore, for home owners with a busy lifestyle, who want to have a balcony garden in their home, but don't have the time to maintaining it to look beautiful always. The advantage of consulting a professional is that they can help with everything from installing self-watering balcony planters to installing drip irrigation so that the daily chore of watering the plants with a hose is eliminated.
And if you are one among such, you are at the right space, leave your gardens with us; in the hands of the people who know whats best for your dear plants and come back to relish in lust green beauty always. Also to make things much easier , you can now avail monthly garden maintenance service & relax back.
Call us now on 9600120351 to get yours.
Visit us at 42, Bazullah Road, T.nagar, Ch-17 (near ICICI Bank)