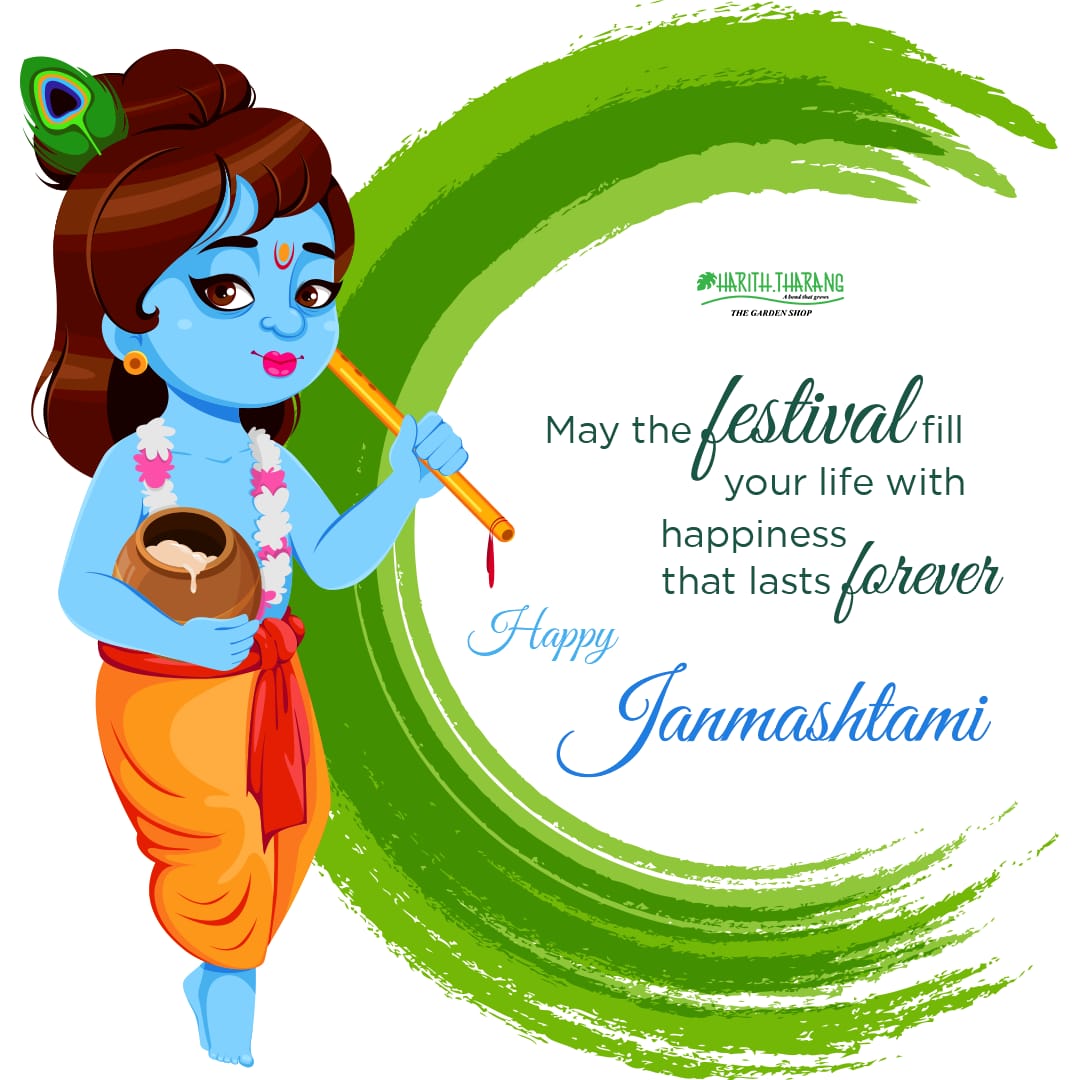 The world was in turmoil. Darkness, evil and strife ruled this age. So much so, that Mother Earth herself was disturbed. Unable to bear the sins unleashed on her soil and soul, she went to Lord Brahma – creator of the Universe – in the form of a cow, requesting him to banish the evil. Lord Brahma, along with other deities, took her to Lord Vishnu who assured her that he would take form in the Yadu Dynasty to rid the earth of evil.
That form was his eighth avatar – Lord Krishna
A mischievous and engaging child, who grew to become the God of compassion, love and tenderness. The protector of Draupadi. The beloved of Radha. A cowherd and a flautist. The keeper and speaker of the wise Bhagvad Gita. Playful, strategic, wise, compassionate, intelligent, passionate – there aren't enough words to describe this God and the role he played in Hinduism.
Krishna is revered by Hindus around the world – the devotion reaching its zenith on his birthday, Krishna Janmashtami (also known as Gokulashtami). The festival is observed in the period between August end and the beginning of September. A day that changed the fates of many, a life that fascinated and a legend that will never die.
This legend is celebrated on the night of Janmashtami. On the eighth day of the Krishna Paksha in Shraavana of the Lunar Calendar (August-September), devotees fast (upavasa), sing devotional songs to Krishna and keep vigil at night (ratri jagaran). After the hour of midnight – when Krishna was born – statues of the infant are bathed, clothed and placed in a cradle. Devotees break their fast, sharing sweets and food. Women often draw tiny footprints outside their houses, symbolising the entry of Krishna into their homes and their lives.
However, Janmashtami is not just a celebration of that midnight hour. It is also a celebration of the life of a legend. Krishna continues to play an integral role in millions of lives today. He is a protector, a strategist, a teacher, a brother, a lover, a playful child, a divine being. His time on earth had many significant moments, which are celebrated across India in different ways. The day after the midnight vigil and prayers, the entire country celebrates the festival. 
Janmashtami is a day of joy and fun. Festivities circle around one important and unique ritual – Dahi Handi. This ritual takes place a day after Janmashtami and is a re-enactment of one of Krishna's most playful moments. As a baby, Krishna loved milk products like yoghurt and butter, and so people would hide these supplies outside of his reach. Krishna would employ all kinds of creative stratagems to reach his favourite treats, including creating a human pyramid with the help of his friends to reach the butter or yoghurt.
In tribute to the charm, joy and innocence of this story, pots of yoghurt (dahi) are strung up high – supported by wires and poles. Teams of boys (named Govindas, after Krishna) form a human pyramid to reach the pot. The boy at the top of the pyramid will break the pot, releasing the Dahi. The spilled offerings are considered holy. As the boys form the pyramid and climb, the women and neighbours in the locality cheer and tease them. They dance, sing and celebrate, creating a festive atmosphere that is welcomed and loved by all. Harith Tharang wishes all our beloved customers, friends and family a very joyous and peaceful Janmashtami!
 Harith Tharang is a decade old plant boutique that aims to spread love, positivity & greenery by means of the nature's gift - plants  ; sells a variety of indoor , outdoor, medicinal, biowall plants , plant medicines,  gardening tool, green gifts and so on.  The shop also provides services in developing house gardens, terrace gardens, balcony gardens, kitchen gardens, terrariums and professional maintenance of gardens. The retail store located at 42, Bazullah Road, T.Nagar, Ch-600017,  has a very unique theme of being ecologically friendly, innovative and elegant & offers many innovative products to consumers. It is a one stop, go-to store for all garden lovers. Call 9600120351 to know more details!