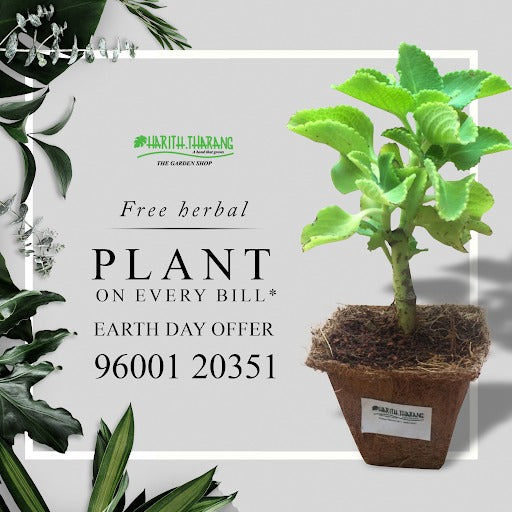 Earth day, April 22, a day to celebrate the environment. The first Earth Day was organized in 1970 to promote the ideas of ecology, encourage respect for life on earth, and highlight growing concern over pollution of the soil, air, and water. Earth Day is now observed in 140 nations with outdoor performances, exhibits, street fairs, and television programs that focus on environmental issues.
Today's scenario being all of us talikng about the issues on every platform possible, but how many of us work towards the rectification of the situation at hand? Something to think upon? isnt it?
We at Harith tharang, have come up with a small initiative to help you wipe off the guilt of not acting.On the 22nd April, we will be gifting a small plant in coir pot to our customers for every purchase that they make. Now what you can do is, pass on this little plant to another person of your choice and start the- "START FROM YOUR HOME" concept. By doing this we can all do our small bit to mother earth.Let this be the beginning to lots more of greenery to come. Wishing all a very happy International Earth Day! 
Harith Tharang is a decade old plant boutique that aims to spread love, positivity & greenery by means of the nature's gift - plants  ; sells a variety of indoor , outdoor, medicinal, biowall plants , plant medicines,  gardening tool, green gifts and so on.  The shop also provides services in developing house gardens, terrace gardens, balcony gardens, kitchen gardens, terrariums and professional maintenance of gardens. The retail store located at 42, Bazullah Road, T.Nagar, Ch-600017,  has a very unique theme of being ecologically friendly, innovative and elegant & offers many innovative products to consumers. It is a one stop, go-to store for all garden lovers. Call 9600120351 to know more details!