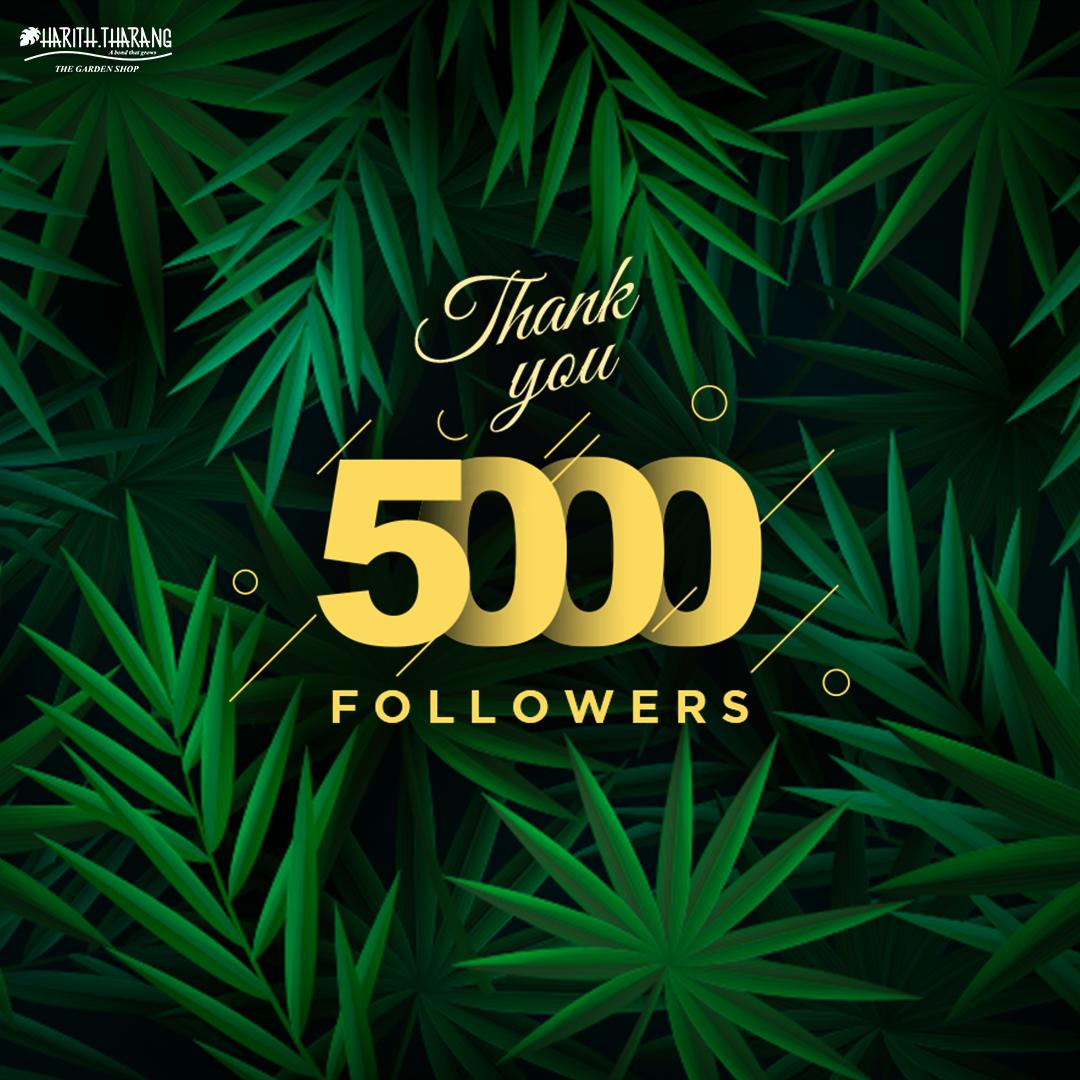 Today we are a family of 5000 plant lovers on instagram. Words cannot express our happiness on reaching this milestone, and it would have not been possible without all our dear customers, friends and well wishers by our side. We thank all of you for always believing in us, motivating us with your kind words and encouraging us through all the ups and downs during this decade long green journey of ours. 

Upon every occasion to celebrate, we at HARITH THARANG, make sure to get you a step ahead in your green pledge, bringing to you innovative ways to connect with mother nature. We are indeed delighted to know that you have loved our ideas and accepted them. We are all going through challenging times, this too shall pass. We should remember to stay united and considerate to one another and face everything that's thrown at us with a strong heart. We shall all grow more green together and give back to mother earth in every little way possible and place trust on her to heal for the better. Better days are ahead of us!
 We take this opportunity to thank you for choosing HARITH THARANG  for all your Garden needs, We want you to know how much we enjoy serving you  and thank you for trusting us to be your source for top quality Plants and Gardening service.
 We are indeed Grateful for the constant support , that you have been Showering us with, and hope for this bond to grow much stronger and mutually beneficial.
    Our days are Beautiful and memorable only because of you.
    Happy Gardening !!!!
Harith Tharang is a decade old plant boutique that aims to spread love, positivity & greenery by means of the nature's gift - plants  ; sells a variety of indoor , outdoor, medicinal, biowall plants , plant medicines,  gardening tool, green gifts and so on.  The shop also provides services in developing house gardens, terrace gardens, balcony gardens, kitchen gardens, terrariums and professional maintenance of gardens. The retail store located at 42, Bazullah Road, T.Nagar, Ch-600017,  has a very unique theme of being ecologically friendly, innovative and elegant & offers many innovative products to consumers. It is a one stop, go-to store for all garden lovers. Call 9600120351 to know more details!