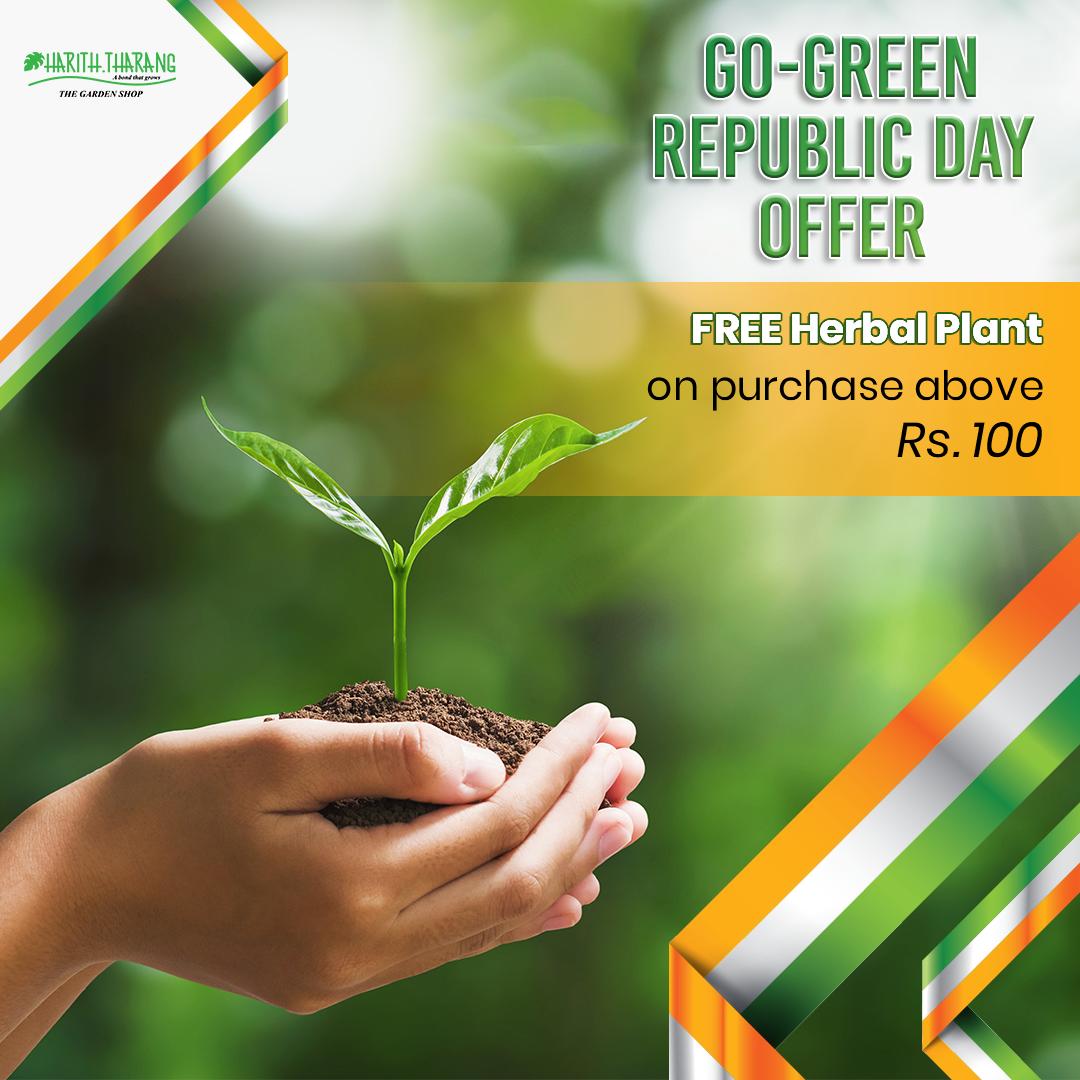 Republic Day honours the date on which the Constitution of India came into effect on 26 January 1950. India has a strong bond with its nature. Every aspect of the Indian house has its roots tangled with the soil nature. Resumbling such connection with the nature is the Indian National Flag. In the national flag of India the top band is of Saffron colour, indicating the strength and courage of the country. The white middle band indicates peace and truth with Dharma Chakra. The last band is green in colour shows the fertility, growth and auspiciousness of the land.
Fertility and growth just being the need of the hour, HARITH THARANG brings to you plant-able national flags. After use you can pot these flags, water them and see them sprout into saplings. DO IT THE GREEN WAY, THIS REPUBLIC DAY! Call us @9600120351 to book yours.

Visit our store - 42, Bazullah Road , T.nagar, Chennai-17 and take home a free herbal sapling on every purchase above Rs.100/- this 26th Jan.
 Harith Tharang is a decade old plant boutique that aims to spread love, positivity & greenery by means of the nature's gift - plants  ; sells a variety of indoor , outdoor, medicinal, biowall plants , plant medicines,  gardening tool, green gifts and so on.  The shop also provides services in developing house gardens, terrace gardens, balcony gardens, kitchen gardens, terrariums and professional maintenance of gardens. The retail store located at 42, Bazullah Road, T.Nagar, Ch-600017,  has a very unique theme of being ecologically friendly, innovative and elegant & offers many innovative products to consumers. It is a one stop, go-to store for all garden lovers. Call 9600120351 to know more details!