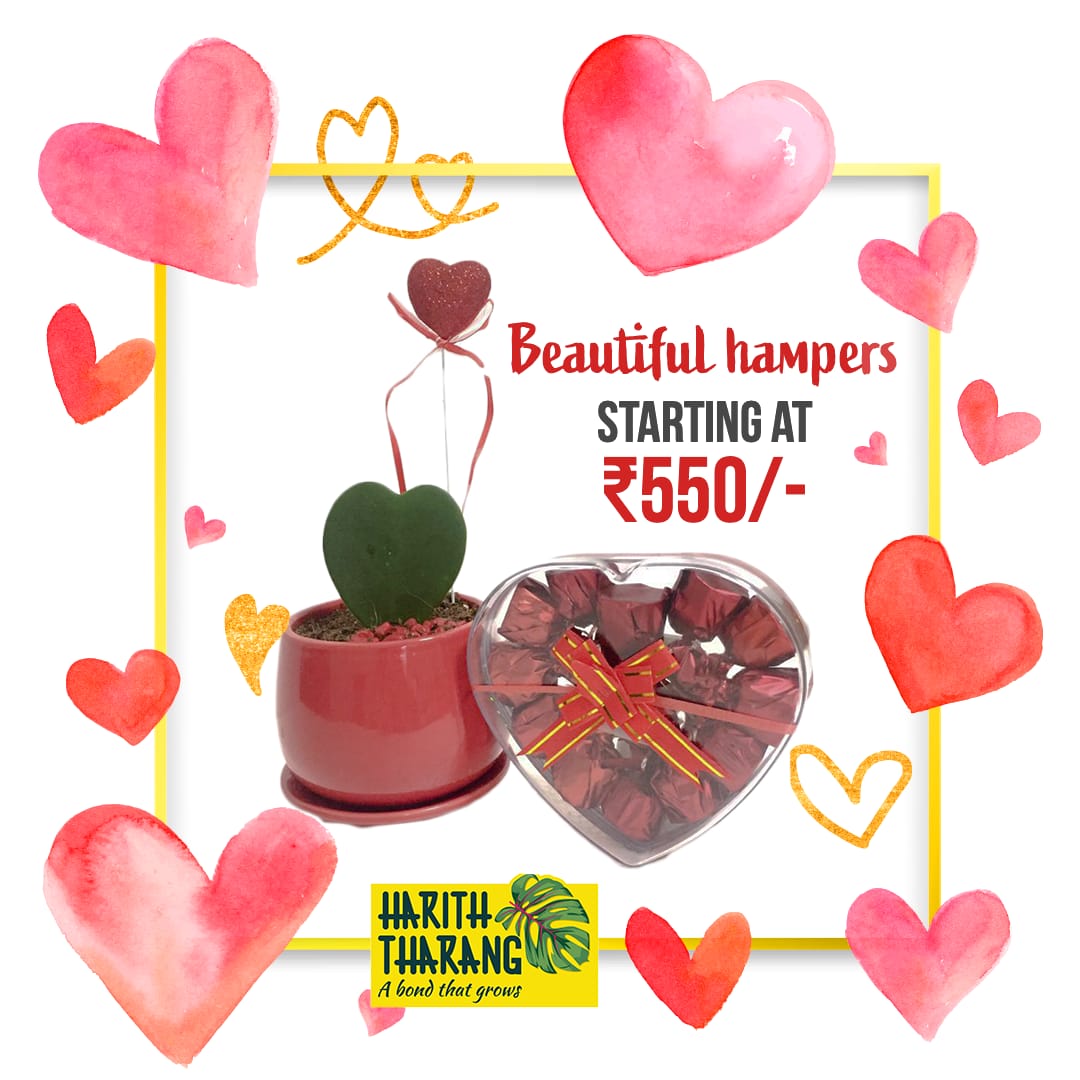 Yet another day to celebrate, yet another reason to love. Its VALENTINES DAY!

Candy, flowers, heart-shaped notes—what's not to like about Valentine's Day? This sweet celebration, which happens every year on February 14, is all about spreading the love. Valentines day has been existing since around the late 1700's in America and Rome. People exchange goodies that they hold close to their memories on this day to display their love to one another. Abundant amount of candies, greeting cards, flowers, love and romance take the center stage on this day of the month.

Just like every other occasion this valentines day also , we at HARITH THARANG, make sure to get you a step ahead in your green pledge, bringing to you innovative ways to connect you, your loved ones and mother nature.

Love is in the air, they say,.. this year along with immense love, HARITH THARANG also brings to you Hoya heart in red ceramic pot with tray and accessories from 550/- onwards. And we decided to show our love for you - our dear customers by giving away a free plant for every couple that bills a Hoya heart and shares an image of it on their social media. So what are you waiting for, this Valentine's day, show your love by gifting a heart that grows forever, just like your love for them and take home a free plant ! Limited stock only. To grab yours call 9600120351 asap!

Harith Tharang is a decade old plant boutique that aims to spread love, positivity & greenery by means of the nature's gift - plants ; sells a variety of indoor , outdoor, medicinal, biowall plants , plant medicines, gardening tool, green gifts and so on. The shop also provides services in developing house gardens, terrace gardens, balcony gardens, kitchen gardens, terrariums and professional maintenance of gardens. The retail store located at 42, Bazullah Road, T.Nagar, Ch-600017, has a very unique theme of being ecologically friendly, innovative and elegant & offers many innovative products to consumers. It is a one stop, go-to store for all garden lovers. Call 9600120351 to know more details!