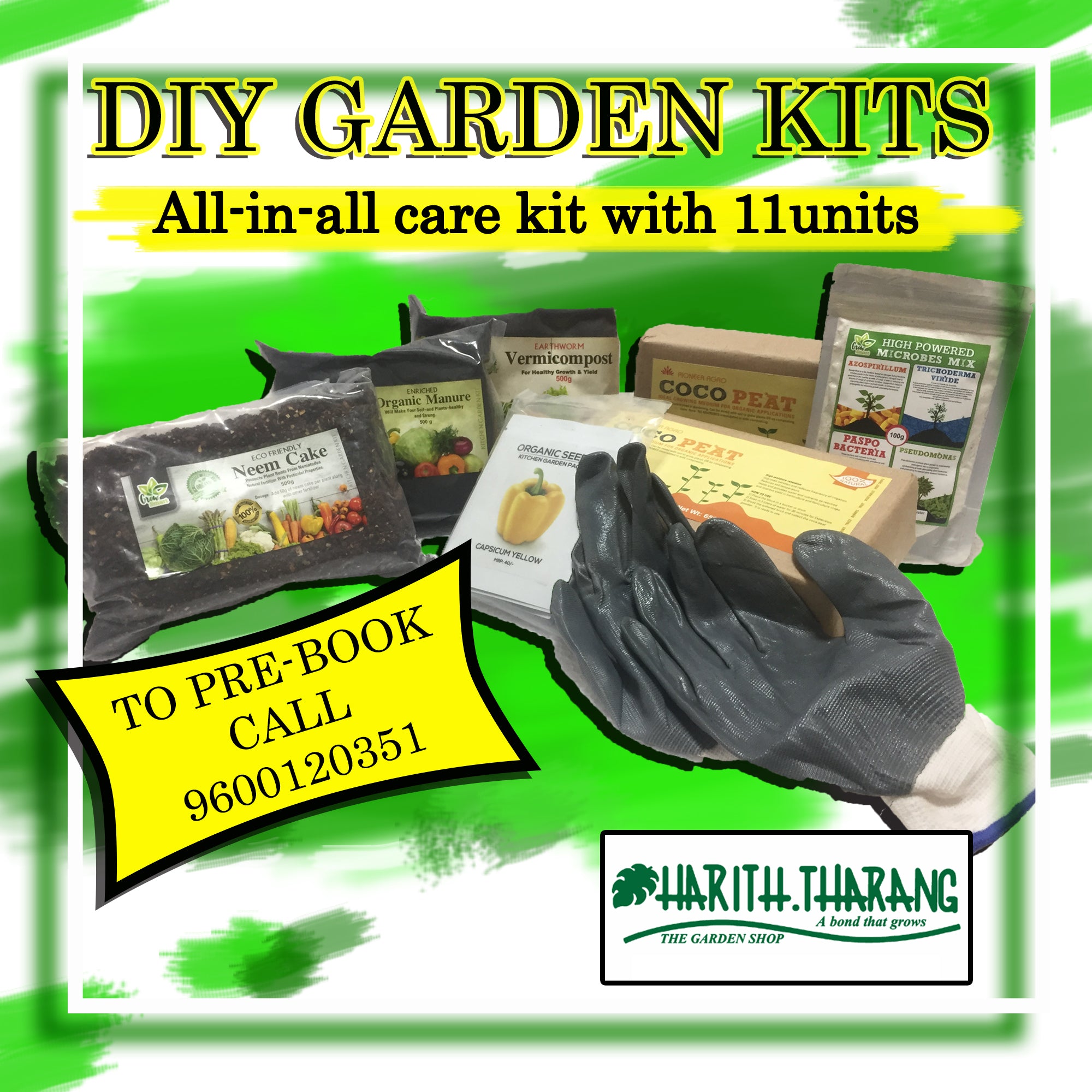 DIY Garden kits is a customization of everything you will need to make a vegetable garden for yourself. The gift box is a compilation of materials that are required from the scratch throughout the process of gardening that is made easy usable even for a beginner. This box is a dream come true for all those who wish to have a mini backyard garden or terrace garden and care for it, but are hesitant without prior knowledge or guidance.The box comes with every essential for all the love and care the plant will need. These boxes will surely make a impression when gifted.

The box contains the following essentials of plant care:
1) GROW BAGS (3nos - 1big, 2small)
2) COCO PEAT (6 blocks)
3) NEAM CAKE (500Gg)
4) VERMICOMPOST (500g - 4PCS)
5) ORGANIC MANURE (500g - 4PCS)
6) ORGANIC SEEDS (5 varieties)
7) NUTRI PELLETS (4nos)
8) HAND GLOVES (1 set)
9) MICROBES MIX (1pack)
10)PANCHAKAVYA (100ml)
11)LIQUID SEAWEED (100ml)

To pre-book your gift box call us at 9600120351.
Harith Tharang is a decade old plant boutique that aims to spread love, positivity & greenery by means of the nature's gift - plants  ; sells a variety of indoor , outdoor, medicinal, biowall plants , plant medicines,  gardening tool, green gifts and so on.  The shop also provides services in developing house gardens, terrace gardens, balcony gardens, kitchen gardens, terrariums and professional maintenance of gardens. The retail store located at 42, Bazullah Road, T.Nagar, Ch-600017,  has a very unique theme of being ecologically friendly, innovative and elegant & offers many innovative products to consumers. It is a one stop, go-to store for all garden lovers. Call 9600120351 to know more details!