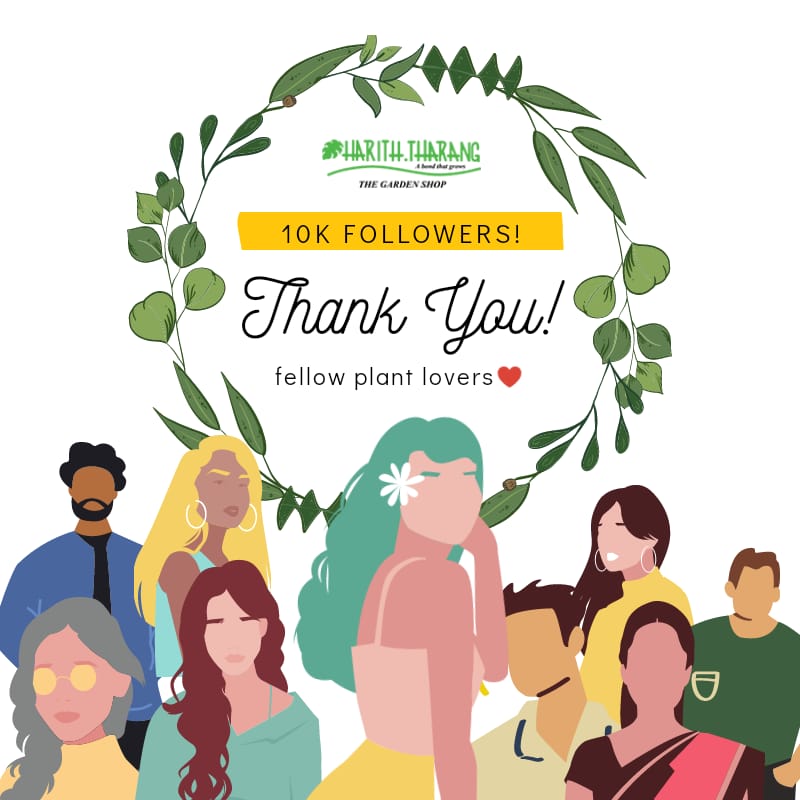 We are now a family of 10,000 plant lovers on Instagram. Words cannot express our happiness on reaching this milestone, and it would have not been possible without all our dear customers, friends and well wishers by our side. We thank all of you for always believing in us, motivating us with your kind words and encouraging us through all the ups and downs during this decade long green journey of ours. 
Upon every occasion to celebrate, we at HARITH THARANG, make sure to get you a step ahead in your green pledge, bringing to you innovative ways to connect with mother nature. We are indeed delighted to know that you have loved our ideas and accepted them. We shall all grow more green together and give back to mother earth in every little way possible and place trust on her to heal for the better. Better days are ahead of us!
 We take this opportunity to thank you for choosing HARITH THARANG  for all your Garden needs, We want you to know how much we enjoy serving you  and thank you for trusting us to be your source for top quality Plants and Gardening service.
 We are indeed Grateful for the constant support , that you have been Showering us with, and hope for this bond to grow much stronger and mutually beneficial.
Our days are Beautiful and memorable only because of you.
Happy Gardening !!!!
To mark our gratitude, we are conducting a giveaway contest on instagram story and share our joy with you. All you need to do is, follow us on instagram, take a screenshot of our story, answer the questions and tag us @hariththarang. Exciting surprises await lucky winners! Let the tagging game get started!