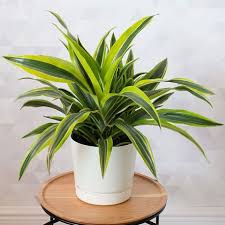 Dracaena lemon lime
The dracaena lemon lime plant, native to Africa, is a very close relative of the dracaena warneki (green and white striped leaves) and the dracaena janet craig (solid green leaves). The dracaena lemon lime has 12"-24" long sword shaped leaves with bright green and yellow stripes. Like other dracaena plants, the leaves are arranged in a rosette and grow off a very thick stem. A dracaena lemon lime is very easy to care for and can easily reach a height of 5ft-7ft. indoors. It also makes a beautiful bush. Because of the bright colors in the leaves, the dracaena lemon lime needs a little more light than other dracaenas. It's a great plant to brighten up any room in your house.
These plants are considered by the ASPCA to be poisonous to cats and dogs.
*image is for representation purpose only. the plant will be delivered in a basic plastic pot.   
Payment Information
we accept the following payment methods
Credit / Debit cards
Net Banking
UPI
Wallets